JACQUES BREL | THE DEFINITIVE BIO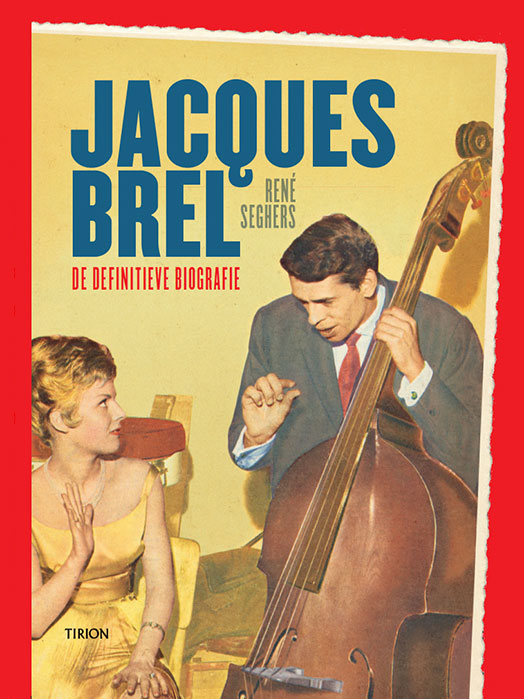 René Seghers' Dutch language Jacques Brel biography Jacques Brel | The Definitive Biography has 512 pages, over 100 unique photographs, a fully illustrated  discography and an even more unique illustrated Brel cover albums chronology.
But why another Brel biography, when there are so many already? Seghers: 'While the larger part of Brel's career is known, my book has over 200 pages focussing on unique topics such as Brel's sailing years. New is the focus on Brel-interpretation over the decades.  Brel is the most covered artist of the 20th Century. Then, there was no Dutch language Brel biography, since the family had hitherto managed to prevent an independently written Dutch language publication.'
book specifics

Author: René Seghers
Publisher: Tirion/Houtekiet
Language: Dutch
Research: The book was researched and written in the span of seven years.
Includes: Authentic interviews and source materials.
Number of pages: 512
Photographs: 100+ unique colour and black and white photograhs
Specifics: Fully illustrated chronology
Specifics; Fully illustrated cover chronology
Specifics: Fully illustrated fimpography
Specifics: Has the detailed story of the shipwreck and salvaging of the Askoy II
Specifics: Detailed names register
Specifics: State of the art quality publication, gorgeous design, bound, hardcover, luxury paper
ISBN: 978-90-2155-239-2
UNCOVERED BREL
Seghers' fascination with Brel has little to do with Brels' career: 'No matter how unique Brel was as a singer/songwriter, this would never have been enough to lure me into writing a book on his life. As a journalist I do write commercially on at about anything that comes along, but my spare time is reserved for labors of love: Franco Corelli, Hariclea Darclée, the world of Dutch opera composers. What intrigued me about Brel were his years as a sailor. Another intriguing thing about him was his radical decision to stop performing in 1967. He was then truly at the height of his fame. He made further recordings, but kept his word and never performed again, bar an impressive sequence of subsequent 1967/68 appearances in the musical Man of La Mancha, in his own French translation – the artistic highlight of his career as a performer.
Brel then tried himself in acting and as a movie director. Both attempts ultimately failed, although he had some major triumphs as an actor. These blockbusters, however, were little more than simplistic comedies such as Mon oncle Benjamin (My uncle Benjamin; 1969), L'aventure c'est l'aventure (aka The adventure is the adventure; 1972) and L'emmerdeur (aka A pain in the ass; 1973). Brel aimed higher, but his own directing in Franz (1971) and Le Far West (1973) proved too extreme for the mass audiences he still hoped to draw. Seghers: 'Once again he proved to be a man who did not make compromises. He closed the door on his movie career, bought a boat and sailed away to the Pacific. On board his new love since L'aventure c'est l'aventure, the Guadeloupe beauty Maddly Bamy. This journey over the Oceans fascinated me. I visited Bamy, a very poetic, spiritual woman with a fascinating life, and then made those chapters the heart of my book.'
ASKOY II
Brel's sea journey with the Askoy II is at the heart of the new biography. The chapters on Brel's final years have been expanded with the remarkable story of the things that happened with Brel's boat after the artist died. Seghers: 'Following my first Brel book in 2003, the Wittevrongels started looking into the history of the boat after Brel passed away. Their research resulted in a thriller. The Askoy II was first sold to a hippy couple that celebrated their love on it under the 'No Nukes' banner. Then it was owned by an adventurous fisherman, who turned the yacht into a deep freeze boat, before reselling the ship to a gang of soft drugs smugglers!
The story of Brel's boat and its ultimate recovery in 2007, is one of those incredible coincidences that makes you believe it can't be a coincidence. It all started when I found references to the salvage of the Askoy. I looked into it and contacted the rescue team, united in the Save Askoy II Foundation. The two men behind it proved to the brothers Piet & Staf Wittevrongel. The name of the brothers rang a bell in the back of my head: hadn't I written of a certain Johan Wittevrongel, the sail sewer from Blankenberge who made Brel's sails. Indeed! Piet & Staf had helped him as teenagers in the family company.'
JACQUES BREL COVER TOP-200
Certainly The Beatles and The Rolling Stones dominted the repertoire of emerging high school bands sinds the late 1960's until the first decade of the 21st Century. When it comes to officially released covers, the most covered artist in the world is Jacques Brel, with over 3.000 officially released cover songs. This is by far not limited to the French speaking realm. On the contrar, his greatest hits were Englih covers such as 'If you go away' (Ne me quitte pas) and 'Season in the sun' (Le moribund). Rod McKuen and Terry Jacks owe their careers to Brel, and Brel owe's his fortunes in royalties partly to them. Frank Sinatra, Shirley Bassey, Liza Minelli, Nina Simone, The Beach Boys and 200 other American artists sang and recorded Brel. In Germany I can name Marlene Dietrich, Gisela May, Klaus Hoffmann and Katja Ebstein, along with Neue Well artistst such as Gruppe Horsturz and Reinhard Mey. Jazzmusician including Toots Thielemans played Brel. Icelandic artists, Iranians, Finnish singers, Russians, Phillipinos, Chinese, Polish and even artists from Cayman Islands and Aland islands came under the spell of Brel.
ADIEU LA VIE ADIEU SOLEIL!
Brel's most famous song seems to be 'Ne me quitte pas', but Seghers argues that this is only because people do not know that his most famous song was actually written by Brel: 'Seasons in the sun'. The Terry Jacks world-hit is a literal cover of Brel's 'Le moribond'. Jacks's succes sparked a swarm of 'Seasons of the sun' covers by artists often aren't even aware that it isn't Terry Jacks's song at all. Even in French speaking nations it has happened that cover artists didn't know the original. Thus we can now enjoy Jacques Amars own Canadian-French translation of 'Seasons in the sun' as 'Adieu la vie, adieu soleil!' Another intriguing aspect concerns the influence of Brel on English avant-garde pop music. Hardly anyone is aware that for instance David Bowie paraphrases 'Jef' in the following famous passage of 'Rock'n roll suicide': 'Non Jef, tu est pas seul/Oh no love, you're not alone'. There are hundreds of such stories more. The most important of them are presented in Jacques Brel | De Definitieve'.