Di Stefano Bio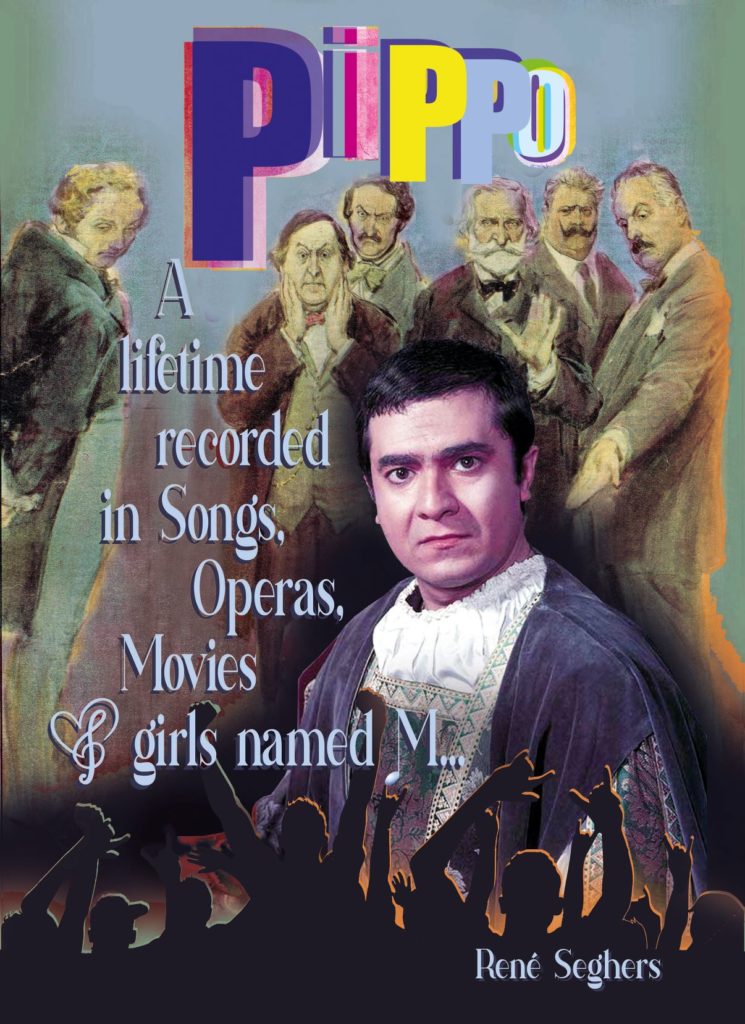 Giuseppe 'Pippo' Di Stefano had a unique voice. It wasn't golden, silvery or bronze – it sounded like the Sun on a sandy beach, warming the hearts of the people in its grace. After long deliberation I used the covid period to transfer 35 years of research into the Discographical Biography of Giuseppe Di Stefano. The book is based on as many years of collecting his recordings (and friendships with other collectors), photographs, articles and reviews. With the writing in its final phase, I provide a first impression here.
Myths meet facts in this biography that tells the story of 'Pippo' Di Stefano from the perspective of his recorded legacy. Official and pirate recordings are put in the proper perspective of his life and times. Dates have been corrected based on source research. Stories like those on his Swiss years are retraced from the earliest sources available. The department of lost & found recordings sets his record straight.

René Seghers, 2021.

Pippo | A lifetime recorded in Songs, Operas, Movies and Girls named M…

Giuseppe Di Stefano was one of the legendary Voci dell'Etna, born on the slopes of the volcano. The volcanic metaphor at times fitted Pippo's explosive nature, but the voice foremost had the generous warm crust of the Sicilian sun. It could sparkle in L'elisir d'amore, set light on Paris in La traviata, scorch the Earth in Iris or soar to Heaven in 'Credeasi, misera.' He had a big, generous heart and a maddening impulsivity that drove the most important general managers that he worked with completely wild at one point or another. They fired him, they hated his guts, they swore he would never sing in their theatres again and then rehired him on improved contracts. He is said to have burned up his voice in a few years but the succesful part of his almost integrally recorded operatic career lasted 26 years, which equals Corelli's (1952-1973) and Del Monaco's (1940-1962). In that career Di Stefano sang over 50 roles, making role debuts well after all his rivals from the 1950s had retired (or died). In canzoni he could move an audience like few others well into the 1990s. Surely he must have done something right in the process. And yet, his incredible lifestyle and impossible vocal philosophy are well documented. Smoking, drinking, gambling… When asked about it he shrugged his shoulders and said with a smile: 'Mà…volevo anche godermi la vita!' (I wanted to also enjoy life).
The life and career of Giuseppe Di Stefano defied both logic and nature. The voice seemed unbound to Newton's law. In that sense it was a phenomenon. In Magda Olivero's words it was a voice that simply couldn't be: 'You can't sing opera in that way.'
And yet, the records are there.
The book

The biography follows his life in the context of his recorded legacy. It provides a corrected complete discography including all vinyl issues and their cover artwork. These are discussed and placed in the context of his life and times. This 'Discographical Biography' is inspired by my believe that the idea of his career as an endless sliding scale is wrong. He may have had a high C up to D natural in the late 1940s but at the time he still had to learn a lot about interpreting a role. While many of his early recordings are truly stunning, Pippo rightfully dubbed these his student recordings. The 1950s present his true prime and I do not believe that the lirico spinto repertoire was wrong for him at all. Don Alvaro in Forza del destino, Ricccardo in Un ballo in maschera, Osaka in Iris, Canio in Pagliacci, Turiddu in Cavalleria and Des Grieux in both Massenet's and Puccini's Manon are among his best roles – live! He sang a number of these roles well enough throughout the 1960s, when he was still much in demand and made some wonderful records, such as the fascinating Deutsche Grammophon arias LP.
The 1960's also brought many stunning new roles from Giordano's Fedora, Verdi's Luisa Miler and Wagner's Rienzi to Otello and Léhar operettes – to mention but a few. His 1968 Viennese song recital as published on a Koch-Schwann CD is unmatched among his recorded songs. His charming 1966 popular music album 'Il nostro concerto' has received an impressive number of reprints since. There were countless recitals with ever new song repertoire. All these novelties are hard to match with his reputation as someone who loathed study and rehearsals.
Certainly he had off nights in the 1960's. He smoked and indeed had a gambling problem. What matters are the great nights in that period, which in opera extent to 1970 and in song to a 1980s LP album with Italian folk songs. By then his interpretations had gained an added crust of nostalgia. The more the voice darkened and the cigars sank in, the more touching the songs of his native soil became. There was something about Pippo that made people warm up to him throughout the decades. He grew old in a beautiful manner. The hint of mischief, the boyish charm, the shyness, the grace, the sparkle in his eyes and the timbre never left him.
The composers of song
Apart from following Giuseppe Di Stefano's recorded career, this book also follows the emergence and development of Italian song from Luigi Denza to Cesare Andrea Bixio and beyond. The names of these composers are usually taken for granted in comparison to those of all the famous opera composers. Yet the song composers played an equal if not more prominent part in popularizing even singers of the stature of Enrico Caruso and Beniamino Gigli through recordings and then also movies.
Cilea, Mascagni and Puccini composed roles created by Caruso and/or Fernando De Lucia. So did the song composers of the day. For the ones that came after such as Beniamino Gigli, creations would often be in song only, in Gigli's case mostly those that Bixio wrote for his movies. After the tradition of opera as a living art form of the people largely came to a halt with the posthumous Turandot premiere of 1926, the Italian song repertoire entered a second golden era in sound cinema. Di Stefano sang all the Gigli novelties live in his early 'Nino Florio' days, at times in mere days or weeks from the release of any given movie. Following the war and his newfound fame, he also met and worked with the most famous of the then living song composers.
Until the writing of this book little to nothing of the information it provides on the songs and their composers was available in English. Italian song LP and CD issues from Caruso to Lanza, Di Stefano, Corelli, Pavarotti and beyond all fail to provide any serious background information. At best they provide summaries of any given song's content as in: 'Fisherman dreams of his beloved in the Moonlight'. Many of the legends and stories that have formed around these songs would have been forgotten if it wasn't for this book. It is only just that it should be reserved to Pippo's biography to correct this. He was certainly the greatest post war advocate of Sicilian, Neapolitan and Italian song of past, present and future.
Finally there are also those girls named M… Who are they? What part do they play in Pippo's Discographical Biography? For that you need to read the book.
Specs
Author: René Seghers
Language: English
Pages: 500+
Print: Full colour
Discography: Complete illustrated vinyl, CD and pirate recordings discography 1943-2002.
Photos: Over 60 photos from the author's collection, most of them never seen before. From both his private life and his career.
Research: 35 Years of original source research. The familiar stories are corrected based upon the original earliest versions of them.
Key features: Presents a wholly new view on Di Stefano's career in the perspective of the changing times that he was active in. Gives his song repertoire its proper weight. Brings the forgotten part of his career to the fore.
Year of issue: 2022