The biography of Hariclea Darclée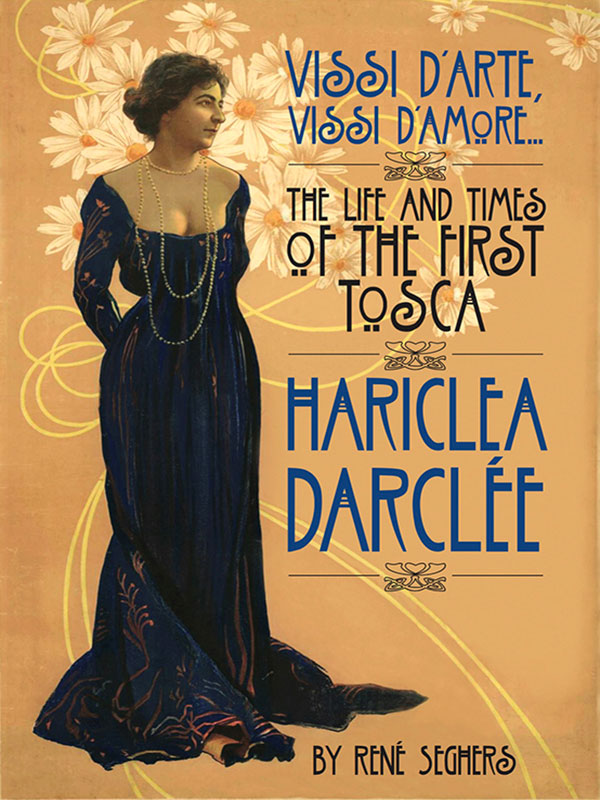 The Harclea Darclée biography has been 'in the making' since 1997. The main text was finished in 2014. I used the time since for corrections and the design of the book, which was done by graphic designer Dick Bak. By november 2022 the book went in print in a limited, exclusive edition of 100 copies. The 25 years of my life spent on reconstructing Darclée's career in the perspective of her time was a well spent labour of love. It is a fascinating read and the most beautiful book I ever made. For me it is all about the content and the quality, not so much about the numbers. 100 Copies is a perfect beginning that will surely pave the way toward a Romanian translation of this book on the creator of my favourite operas Iris and La Wally. Darclée became my spiritual companion over the decades in a bond that crosses the limitations of the physical world. The book is not a hagiography though. Darclée lived and sang to great hights, and she sufffered enormous personal and artistic setbacks. What you can expect is to be the fly on the wall, you are on her shoulder during all those creations, travels, relationships and meeting with the likes of Verdi, Puccini, Tamagno, Caruso, Gomes and so on.
RECORDING CATARGI'S 1906 OPERA 'ENOCH ARDEN'
We are planning to record a accompanying CD to the book which will of course feature the two original song recordings of Darclée, of which I have found the original 1910 disc, then privately pressed for a friend in one copy. Miraculously, that one 78rpm record somehow survived time. In addition we plan to record her Romanian creation, Catragi's Enoch Arden of 1906, the only real first Romanian Opera, since Bretan's Luceafǎrul is from 1921 and Enescu's Oedipe from 1931. That no one in Romania ever bothered to look into Catargi's opera is perhaps understandable, since the score was long considered lost. When I found Acts I and II back during my research on Darclée's Romanian whereabouts, the passionate, very dramatic music fascinated me. Catargi's opera is her only creation, in fact her only role in all (along with Vallini's 1894 opera Il Voto, the score of which seems lost) that is wholly undocumented in live or studio recording. Not even a single aria of it exists. It would greatly add to the understanding of her voice and artistry to have at least her role in it, Annie Lee, recorded. Such a recording will benefit the corresponding chapter in the book. In general the book points to recordings, especially from hard to find roles such as Ero in Mancinelli's Ero e Leandro. There is also much attention for colleagues who recorded roles they sang with Darclée on stage, not just the Carusos and Tamagnos, but especially the many lesser known ones, including some of which weren't known to have recorded at all, such as Celestien Devoyod with whom she created the French premiere of Glinka's La Vie pour le Tzar.
Finally, we will also record some obscure Romanian songs that have been officially dedicated to her, sometimes pre career, when she performed in the salons of Braila, Tulcea and so on as Hariclea Hartulary (her husband's name). None of these completely forgotten songs have ever been recorded before. Over the decades I stumbled on them in auctions, where I bought them without any competition of sorts, since no one had a clue what they represented. We still need to complete financing the CD recording, for which an additional € 2,000 is needed. Any help is welcome. Those willing to help can contact me at rene@reneseghers.nl or +31-6-22338381.
The book
Number of pages: 500 pages on quality paper.
Photographs: Over 100 photographs, all restored to their full original lustre and hand colorized with help of AI techniques.
Design: Lavish design, full colour print. Hard cover with luxury dust wrapping.
Content: Detailed and critical account of Darclée's life and times (it is NOT a hagiography: Darclée celebrated incredible victories and suffered tragic defeats, both in her personal life and in her career. Readers can rejoice in her triumphs and mourn her increasingly tragic sorrows, up to the heartbreaking end).
Chronology: 75+ page detailed career chronology/ discography.
Publisher: Darclee.com
Samples: see here.
Some background on Darclée
The number of times that I have been asked "Why on earth are you writing a biography on Hariclea Darclée?" is perhaps only surpassed by the question "Who is Darclée?"
Hariclea Darclée was much more than just the Maria Callas or Anna Netrebko of her day. Certainly, she was the operatic idol of the 1890s, but today's singers sing Darclée's creations. Along with Gemma Bellincioni Darclée created the core of the verismo repertoire. Bellincioni created Cavalleria Rusticana and Fedora, Darclée created, among others, La Wally, Condor, I Rantzau, Iris, Condor and Tosca. Puccini wanted her for Manon Lescaut in 1894, but could not yet afford her. Giulio Ricordi's pleading couldn't persuade her to leave her Teatro Real Madrid season for an uncertain creation of a work by a unknown composer. Once the Turin world premiere of Manon Lescaut made headlines she cancelled her contract with the Teatro Real and took the first train to La Scala, where she stepped in as the Manon of Puccini's dreams. Puccini was infatuated with her. It was then and there that he started working on Tosca, from the start with Darclée in mind.
Creator of La Wally, Condor, Iris, Tosca
In Brasil Darclée inspired fantasy novels of her alleged life together with local composer Carlos Gomes, whose marvelous opera Condor she created at La Scala 1891. Her accompanist at the time may have learned a trick or two from the rehearsals. His name: Ruggero Leoncavallo. Legendary are her beginnings in Paris 1886, when Gounod's scouts plucked her from her conservatory class to create Juliette in the grand opéra version of his already legendary opéra-comique Roméo et Juliette, alongside Jean de Reszke. At that age, stage-fright and intrigues prevented her debut in one of the most prestigious world premieres of the era, which then became a Waterloo for Adelina Patti, the fading idol of an era that was already gone by then. Vengeance was sweet. Patti fled from Paris under a storm of bad reviews. When Darclée stepped in as Juliette she had the sympathy of the press. From Russia to Nice and from Monaco to Buenos Aires, Italy, Spain and elsewhere Darclée would onwards be promoted as 'the soprano who hurled Patti out of Paris.' Her further career could be described as 'the stuff of legend', if it wasn't in fact all real! There were unbelievable love affairs with Don Carlos of Portugal, aspiring young singers such as Andres Perello de Segurola or stars like Emilio De Marchi and Eugenio Giraldoni up to Puccini. Catalani dedicated La Wally to her. She single-throatedly salvaged la Scala in 1890, as a debutant! Her tours through South America and Russia provide unbelievable stories. There were bankruptcies, bitter rivalries, there were triumphs and eventually also defeats.
The biography
The biography Hariclea Darclée | Vissi d'arte, vissi d'amore | The life and times of the first Tosca recreates Darclée's life and her career as if one was looking over her shoulder. The chapters on her childhood, extensively researched in Romenia, come with unbelievable photographs. One can see her grow up from Ion Haricli little girl to the rebellious young woman who ran off with army officer Georges Hartulary, a gambling womanizer. They married, she became pregnant and with the last of their money, Hariclea decided to try and build a career in… Paris! The amazing thing about her life is that every time she left everything behind in an all or nothing attempt to start over, a fairy appeared that turned the impossible odds in her favour. In Paris, on the verge of begging, she was plucked from classes to become the creator of Juliette at the Paris Opera. When intrigues by De Reszke and Melba cut short her career there in 1889, she survived in the operra troupe of the colourful impresario Raoul Gunsbourg, a landsman from Romania, who created the legend of 'the diva who hurled Patti out of Paris'.
In 1890 she decided to try her luck in Milan. She wasn't stopped by the fact that she did not speak italian and that she  knew only one person there, Ruggero Leoncavallo. He was then a pianist repetitor without means and merely dreaming to make it as a composer. He helped Hariclea with solfège when the next miracle happened: the La Scala impresarios walked under the balcony where Darclée was rehearsing with Leoncavallo. She was hired on the spot as the leading Diva of the 1890 season, creating Carlos Gomes' Condor, the Italian premiere of Tannhäuser and La Wally in the process.
By the end of the season Darclée was the leading Diva of a new era, the Queen of verismo. Her unchallenged reign lasted a full ten years, with th January 14 1900 Tosca creation as the apex. In the first decade of th 20th Centruy competiton became fierce, but by then the operatic 'repertoire' was largely established. Whereas in Darclée's day each year saw a new masterpiece, the new Century saw only one new addition to the repertoire per ten years or so. Until 1926 a singer was very lucky to have but one successful creation behind her name. What Bellincioni and Darclée achieved together was unbelievable. They were the monstres sacrées of verismo, the idols of Puccini, Mascagni, Catalani, Gomes, Giordano, Massenet, Gounod and Leoncavallo.
The lost recordings
The book enables the reader to relive all those legendary creations and ultimately also the tragedies in Darclée's life. No voice remains in power forever. Darclée's luck ran out in 1904, when she signed a mysterious recording contract with Fonotipia, that never produced the stuff the world was waiting for: published recordings that documented her legendary creations. She did record them, but they remained unpublished and have never surfaced. The book follows the making of those recordings from contract to studio, and from there to their destruction in the Allied bombings of Berlin.  Is all hope lost that one or two of her Fonotipias survived? No. There is still a spark of hope to be found in the book, but I did not have the financial means to follow the leads to the source. I have stalled the publication of the book for nearly a decade, hoping I might find the support needed, but in the end I had to accept that Darclée is my own madness.
25 years in the making
During the 25 years of my life devoted to the research and writing of Darclée's biography I had incredible support from many people in research and in editing and designing this gorgeous book. It is one of the most thoroughly researched biographies in opera and certainly one of the most beautifully designed ones. Other gorgeous books in this field served as inspiration, such as the Battistini book by Jacques Chuillon, La belle époque de Massenet by Christophe Ghristi and Mathias Auclair, Jussi by Jacob Forsell, the gorgeous Croation Milka Ternina biography, Giancarlo Landini's Italian Franco Corelli bio or, in terms of research Michael Henstock's fascinating Fernando De Lucia biography. Together with graphic designer Dick Bak I have turned the Darclée biography into the book of our dreams. No effort was spared, the cover art gives a fair idea of the interior, with its Jugendstil look and feel. I have personally restored all 100+ photos to pristine, scratch, wear and tear free condition. In a painstaking process all black and white photographs have been restored to their original colours.